Cheque – History ft. Fireboy DML
History by Cheque & Fireboy DML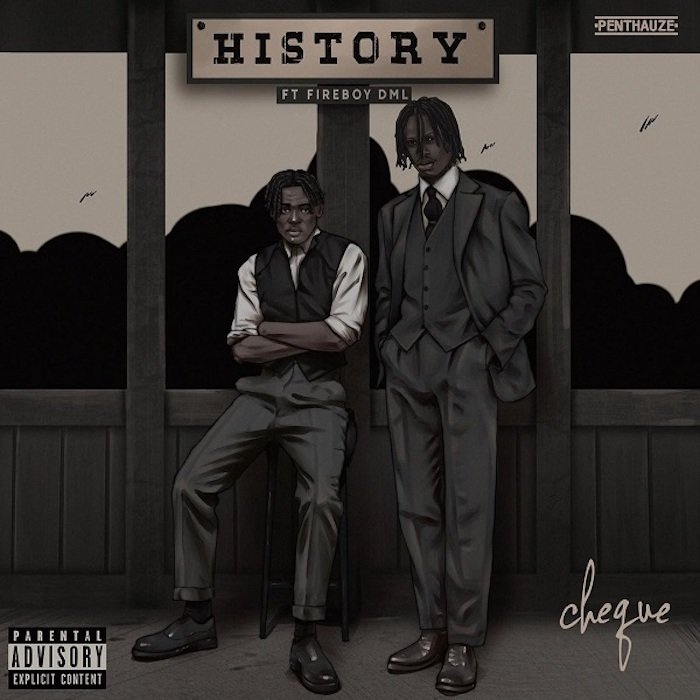 Cheque, a Penthauze Music act, has released a buzzing soundtrack titled "History," which features YBNL star Fireboy DML.
Masterkraft was in charge of the song's production.
The hit song is a follow-up to his previously released single, "Zoom (Remix)." It was also the second single released in the year 2021.
Cheque – History ft. Fireboy DML_lyrics:
Uuuhhhhhh
[Cheque]
I don't want no more pain
I don't want no more drama
I don't want cry no more
I don't want fall no more
I'm still standing my ground
But all these bumps surround me
I don't want cry no more
I don't want fall no more
[Cheque]
Ehhh
Me and you we got history
When I'm gone, you gon' miss me
I've been down for a long long time
I can't take it oh, no more time
Only thinking 'bout victory
Can't fuck with anything that's contradictory
Boy Cheque never satisfied
What is dead may never die
[Fireboy DML]
On top my case, they carry antenna
They tie gele, they tie bandana
They wanna lock me up, turn me to mandela
But I geti Baba God wey be my manema
And I know, when I cold
Give me the strength to conquer my foes
Give me strength to stand on my toes
Cus I no fit do am on my own
[Cheque]
Me and you we got history
When I'm gone, you gon' miss me
I've been down for a long long time
I can't take it oh, no more time
Only thinking 'bout victory
Can't fuck with anything that's contradictory
Boy Cheque never satisfied
What is dead may never die
[Cheque]
I put my motor auto, when I'm driving
All these potholes and its swerving
Don't stress me, oh my gee
I'm flexing as you see
If you wanna do agbako, o maa te si
All these fake love, e dey vex mi
Don't love me, let me be
Tryna break me, I'm a beast
Yeah, yeah
[Fireboy DML & Cheque]
Me and you we got history
When I'm gone, you gon' miss me
I've been down for a long long time
And I no fit take am one more time
Only thinking 'bout victory
Can't fuck with anything that's contradictory
Boy Cheque never satisfied
What is dead may never die
[Fireboy DML]
Say nobody fit to stop my shine
I no fit die cus it's not my time
Man I'm on my grind
And na only money dey my mind
Sey na only money dey my mind
Oh oh oh
See I don't care about no enemy
They envy me, they tryna geti me
But na only money dey my mind
Sey na only money dey my mind
Oh eh
[Fireboy DML & Cheque]
Me and you we got history
When I'm gone, you gon' miss me
I've been down for a long long time
I can't take it oh, no more time
Only thinking 'bout victory
Can't fuck with anything that's contradictory
Boy Cheque never satisfied
What is dead may never die
(Extraordinary)
Listen and enjoy "Cheque – History" below:
DOWNLOAD MP3