Eudoxie Yao, a popular Ivorian model and musician, and her undersized boyfriend, Grand P, have called it quits.
She revealed the news on her social media account, where she stated that she had split up with her boyfriend and had moved on.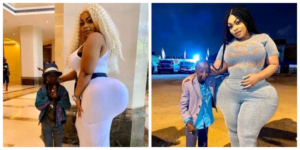 Remember how the generously endowed singer complained bitterly about how the businessman had cheated on him numerous times?
The young woman who wrote in French confessed that she can't bear the humiliation of his wretched temperaments.
In her own words, she said.
"Good evening, my babies. I just wanted to let you know that my relationship with Big P has ended. Thank you; I'm moving on."