The Ogun State Police Command has confirmed that aid to the fast-rising singer, Habeeb Okikiola, better known as Portable, has crushed a motorcyclist to death in Ogun State.
Tragedy struck at the Iyano Ilogbo area of Ogun State when a Range Rover, belonging to Zazuu Zeh crooner, hit a bike rider.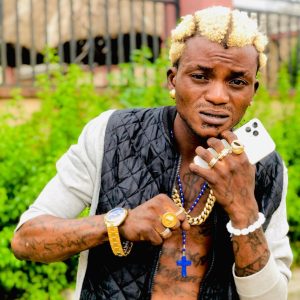 RELATED ARTICLE: Singer, Portable and his lover, Zainab ties the knot at their second child's naming ceremony (Photos and videos)
TrendyHipHop had reported that the singer and his lover 'wedded' during their second son's naming ceremony.
The driver of the car, who is one of Portable's associates, was running errands apropos the singer's wedding when he accidentally jammed a bike man who reportedly died before reaching the hospital.
His manager, named Theresa, during an interview with some journalists, unleashed how the bad incident happened.
She noted that when she got to the hospital, the bike rider was complaining about pains in his back, noting that his two female passengers were unhurt.
In her words, she said:
"I'll be very fast with you because I'm very busy. I was the one that sent one of his boys to go and buy something for me.

On their way going, maybe the bike man thought that Portable was the one driving or they wanted to collect money or whatever, but the man drove to the vehicle. That was how they hit the man.

They called me. I left where I was with Portable. We went there. The guy that drove the car rushed the man to the hospital. I got to the hospital and transferred N25,000 to them.

They said N20,000 was for treatment while N5,000 was for X-ray.

When I left the hospital, I gave them another N8,000 to take a cab to where they were going to conduct the X-ray. Immediately I left there, I reported to the Divisional Police Officer and the Commissioner of Police.

I called DPO Sango and DPO Ifo to explain what happened. After 10 minutes, they called me back from the hospital that the man had given up.

When I got the call, I had to call the boy that was in the scenario to go to the station to report himself. He is at the station as I'm talking to you like this."