There are other alternatives outside: BBBBNaija's Angel  As she prepares to be evicted,  Angel provides guidance on how to proceed with cross.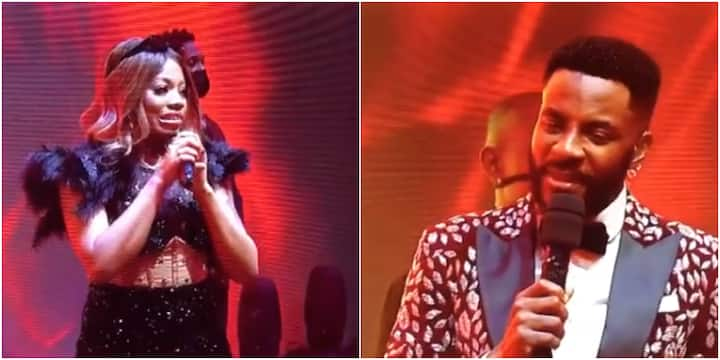 The BBNaija Shine Ya Eye finale has finally arrived, and one of the last six housemates is one step closer to being crowned the show's victorious roommate.
,, , ,
Emmanuel was the first housemate to be evicted out of the finalists, and now Angel has followed in their footsteps.
The six BBNaija Shine Ya Eye finalists are now more optimistic than they have been in the past about winning the N90 million grand prize.
Two of the six finalists, however, have had their journeys cut short due to unforeseen circumstances. After Emmanuel was ousted from the show, Angel became the second finalist to be booted from the competition, following Emmanuel.
Angel walked onto the stage with the show's host, Ebuka, and she appeared to be more excited than she had been in a long time at finally being out of the house.
Angel was questioned by Ebuka about her obvious excitement despite the fact that she had missed out on winning N90 million.
The 21-year-old stated that she was confident in her ability to earn the monetary equivalent outside of the show.
The Angel tells about his relationship with the Cross. As was predicted, the show's host inquired about Angel's relationship with Cross and how she appeared to have an on-and-off relationship with him while in the house.
Angel said that she did not have a precise answer to Ebuka's query, but that she did not want to become overly attached to him because of it.
Ebuka inquired as to whether she was considering establishing a relationship with Cross now that the show was concluded.
There are many possibilities available to her outside the home, so she will give it some thought, the young lady added. Take a look at the details below: