When a female student learns that her lecturer died of AIDS, she is said to have fainted three times.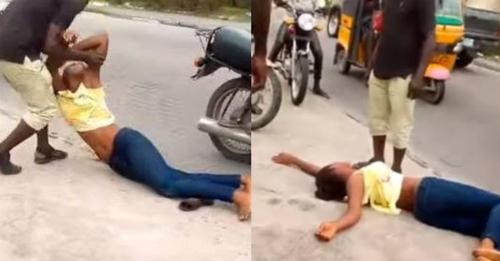 After learning of the death of one of her teachers, a female undergraduate is said to have collapsed on the spot.
,, , ,
An anonymous Twitter user, @Spend0Gustav0, who published the story, claims that when the nameless female student learned of her lecturer's death, she fainted three times. The lecturer, according to the acct, died of the terrible Acquired Immune Deficiency Syndrome (AIDS).
Although no explanation was provided as to why she fainted, many who responded to the tweet in the comment area stated that they had formed some educated guesses.
Most people believe that she had an extramarital affair with the decedent and that they may have engaged in unprotected sexual relations while he was still alive.
His tweet read;
"My female coursemate fainted 3 times after she heard the news that our lecturer died of AIDs. I no understand why she faints"
check out the screenshot of his tweet.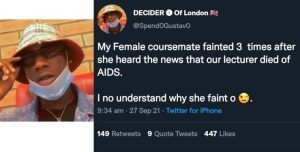 If their predictions are true, it simply means that the young lady's future may be jeopardized, and she should undergo an HIV test as soon as possible to determine her status.