Unknown gunmen recently stormed Owerri's police investigation department and correctional center, freeing prisoners and setting the buildings on fire.
According to various sources, the incident occurred at midnight after unknown gunmen fired multiple bullets, causing the Nigerian police to flee the facility, freeing inmates and setting the building on fire.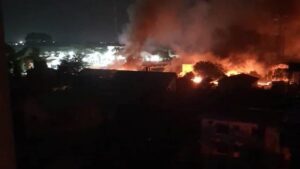 According to research, the attack took place in the early hours of Easter Monday, April 5, 2021, leaving people terrified after several infamous criminals fled.
According to eyewitnesses, the gunmen stormed the facility in order to free the detainees. Hundreds of them were seen fleeing.
Watch the video below;